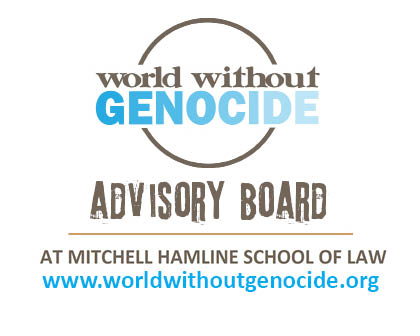 Andrew Baker, M.D.
Forensic pathologist and Chief Medical Examiner, Hennepin County
Benjamin Ferencz, J.D.
Sole surviving prosecutor, Nuremberg war crimes tribunals
Barbara Frey, J.D.
Director, Human Rights Program, Institute for Global Studies, University of Minnesota
Curt Goering
Executive Director, Center for Victims of Torture
Eric Janus, J.D.
Former Dean and President, Mitchell Hamline School of Law
Kevin Lindsey, J.D.
Commissioner, Minnesota Department of Human Rights
Steven H. Miles, M.D.
Professor of Medicine and Bioethics, University of Minnesota
Arnold Mittelman
President, National Jewish Theater Foundation Holocaust Theater International Initiative at the University of Miami Miller Center
Floriane M. Nibakure
Director, Nibakure Community Village, Rwanda
Robin Phillips, J.D.
Executive Director, The Advocates for Human Rights
William L. Schulman, Ph.D.
President, Association of Holocaust Organizations
Gregory Stanton, J.D., Ph.D.
Chairman of the Board, Genocide Watch
Scott Straus, Ph.D.
Professor, University of Wisconsin and Member, United States Holocaust Memorial Council
James Waller, Ph.D.
Director of Academic Programs, Auschwitz Institute for Peace and Reconciliation
John Washburn, J.D.
Convener, AMICC, the American NGO Coalition for the International Criminal Court