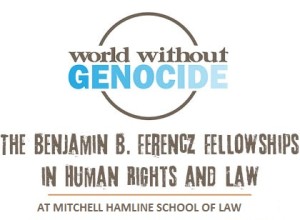 World Without Genocide Fellows Visit Burma
By Victoria Dutcher and Kenneth Granle
Benjamin B. Ferencz Fellows in Human Rights and Law
Post 1- Arriving in Yangon, Burma
We arrived in Yangon on January 6 and immediately began meeting with representatives from local human rights organizations and other non-profits. Our goal was to learn about their work in Myanmar and any particular struggles they may have faced in recent years. We also came to set up an International Student Dialogue in Language and law and lay the groundwork for a workshop on International Criminal Tribunals in October. Our first meeting was with two representatives from Karen Human Rights Group (KHRG). Their organization brings to the forefront many issues that face ethnic minorities in developing
countries, such as land confiscation for natural resources. The two representatives shared with us some of their publications that chronicle many of the issues that the Karen and other groups have faced in recent years.  KHRG also trains village leaders and community members in human rights so that they can share their knowledge with the entire indigenous population.
Our next meeting was with Dr. Helen Gunthrope of BusinessKind.  Her non-profit provides business training to women in rural areas, either to teach them skills in a particular trade, or to give the basic building blocks of running a successful business.  She explained that a stable democracy and stable business infrastructure go hand in hand.  Dr. Gunthrope and her team are optimistic for the future of Myanmar, especially as more and more mid-sized international businesses come to the country.  If corporations are willing to invest their time and money into a new international venture, and the people of that country see the sustainable benefit, both will prosper. She anticipates rapid change as the focus transfers from politics to business.
We visited the US Consulate and Embassy.  We learned about many of the consular functions and the particular difficulties of maintaining such an office in a country that until recently was under trade sanctions from the US. The relationship between the two countries has been better as of late, and there were many Burmese who were there in hopes of receiving documents for travel to the United States.
In anticipation of our return to Yangon next fall, we toured the American Center to see its facilities and meet several of the staff members. The center has an extensive English library and offers language courses ranging from beginner to TOEFL preparation, the required English-language proficiency exam for academic study in English. There are also several groups that meet there, including a legal studies club and an American culture club.  We also met a man from iPace who regularly conducts human rights programming.  He and the rest of the people we met at the American Center are excited for the International Student dialogue that we are establishing as well as the workshop coming – in October.
Post Two- Fellows visit Chiang Mai, Thailand
After our time in Yangon, we traveled to Chiang Mai in the north of Thailand.  Our first meeting was at the Burma Study Center. This small nonprofit caters to Burmese expatriates living in Chiang Mai and the surrounding area.  The center offers English classes from beginner to TOEFL preparation.  The center also serves as a hub for those interested in Burmese culture, history, and current events.  When asked about his view on the current political situation in Burma, a staff member at the center said that he could already see change coming, but it was slow rather than swift. The Burma Study Center also publishes books, magazines, and films that chronicle the struggles that Burmese refugees have recently faced to keep these issues from falling into the footnotes of history.
Our next meeting was with the Chiang Mai International Rotary Club.  This group was mostly American
expats living in Thailand, though there were several visitors from Rotary clubs outside of Thailand. The Rotarians shared with us some of their fundraising efforts and the humanitarian work they do in rural communities. Two initiatives of note were an eye clinic and youth swimming lessons.  According to one of the Rotarians, drowning is the number one cause of death for Thai children under the age of seven in Thailand.  Thanks to the intervention of the Rotarians, they have seen a considerable drop in such fatalities over the past few years.
Chiang Mai University (CMU) has a Model UN club that welcomed us to give a presentation after class one day. We shared information about the history of international human rights law, our organization, and plans we have for the future. Most of the students are studying political science and international affairs, and they were very excited about the upcoming dialogue exchange with Mitchell Hamline. The students asked some intriguing questions about international affairs, especially the current refugee crisis in Europe. We could see that they were not only well informed but also very eager to start their own careers in international NGOs.
Post Three- Fellows visit Bangkok
After arriving in Bangkok, we met with The Rotary Club of Bangkok, the country's oldest Rotary club. The club consisted of Thai nationals and expatriates from countries such as Germany, France, India, and the United States. They were kind enough to give us a few minutes to speak about our work and the mission of
World Without Genocide. After lunch, several members gave us their contact information and we look forward to staying in touch with them.
We also met a member of the Peace Corps who was visiting from a small village. She explained how she spends much of her time on curriculum development and instructor training to prepare the locals to run the school once she leaves. She also informed us that sex education was recently introduced into the national curriculum because of the increasing prevalence of HIV/AIDS.
Our final meeting was at the Peace Center at Chulalongkorn University, an academic program run by Rotary International. This is a three-month certificate program in peace and conflict resolution studies designed for people working in the human rights field. The program is open to qualified applicants from around the world. For more information, visit here. The newest cohort of Peace Fellows had just started their studies and we joined them in class for several hours. The lectures focused on the effectiveness of security resolutions and the notion of "Do No Harm" humanitarian work. After class, we met with some students who were taking time from their careers in this field to participate in this program.