After the Holocaust the world said 'never again,' yet those words have come to mean 'over and over again.' Although there are many complicated reasons why genocides happen, there is one simple reason: we let them happen.
We believe that ordinary people have the power to create a world without genocide. Tents of Witness: Genocide and Conflict is a multimedia, multicultural, and multigenerational exhibit designed to educate people about genocide; explain the causes and consequences of genocide; present action steps to prevent it; and remember those in our own communities who have fled from these atrocities and whose families and communities have been destroyed.
Tents of Witness features ten 8' x 12' painted canvas tents that simulate those used in refugee camps. The tents each depict the story of different groups persecuted based on their identity: race, religion, ethnicity, or national origin. The stories are of the conflicts suffered by the Jews and others targeted in the Holocaust; Native Americans; Armenians; and the catastrophes in Cambodia, Bosnia, Rwanda, North Korea, Darfur, Argentina, and the Democratic Republic of the Congo.
Each tent represents the diversity and beauty of each place and people. The exhibit illustrates clearly that no people or place has been immune from such atrocities.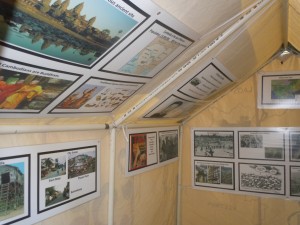 Bring the Exhibit to Your Community
Tents of Witness may be rented to use in human rights education and advocacy programs. Rental includes a set of multiple tents and laminated educational posters for the interior and four exterior standing banners, 7' x 3',  highlighting the global refugee crisis, information about genocides around the world, and background on the Genocide Convention.
For local organizations, we will send a staff person to assist with tent setup and programming. A staff member will work with you on pricing, delivery, and programming strategies for using the exhibit to best meet your desired outcomes. Please note, due to the high cost of transporting a large exhibit, we only travel within the Upper Midwest region. Please contact admin@worldwithoutgenocide.org with any questions or to inquire about renting the exhibit.
Please complete and submit an Interest Form, to rent all or part of this exhibit (minimum of three tents). We have tents available on the following genocides:
American Indian
Argentina
Armenians
Bosnia
Cambodia
Darfur
Democratic Republic of the Congo
The Holocaust
North Korea
Rwanda
To see the tents in more detail, we encourage you to explore pictures from our past exhibitions.
The University of Wisconsin-Stout hosted the exhibit as part of their human rights programming. Stout compiled a video with remarks from World Without Genocide staff about the tents. Check out the video here.
Help us continue to provide this unique, hands-on experience for students, survivors, activists, and members of the public throughout the upper-Midwest region by contributing here.