Summer Institute for High School and College Students
Climate Change and Genocide
July 31-August 2, 2018
Mitchell Hamline School of Law, 875 Summit Avenue, St. Paul, MN 55105
Recipient, Minnesota Ethical Leadership Award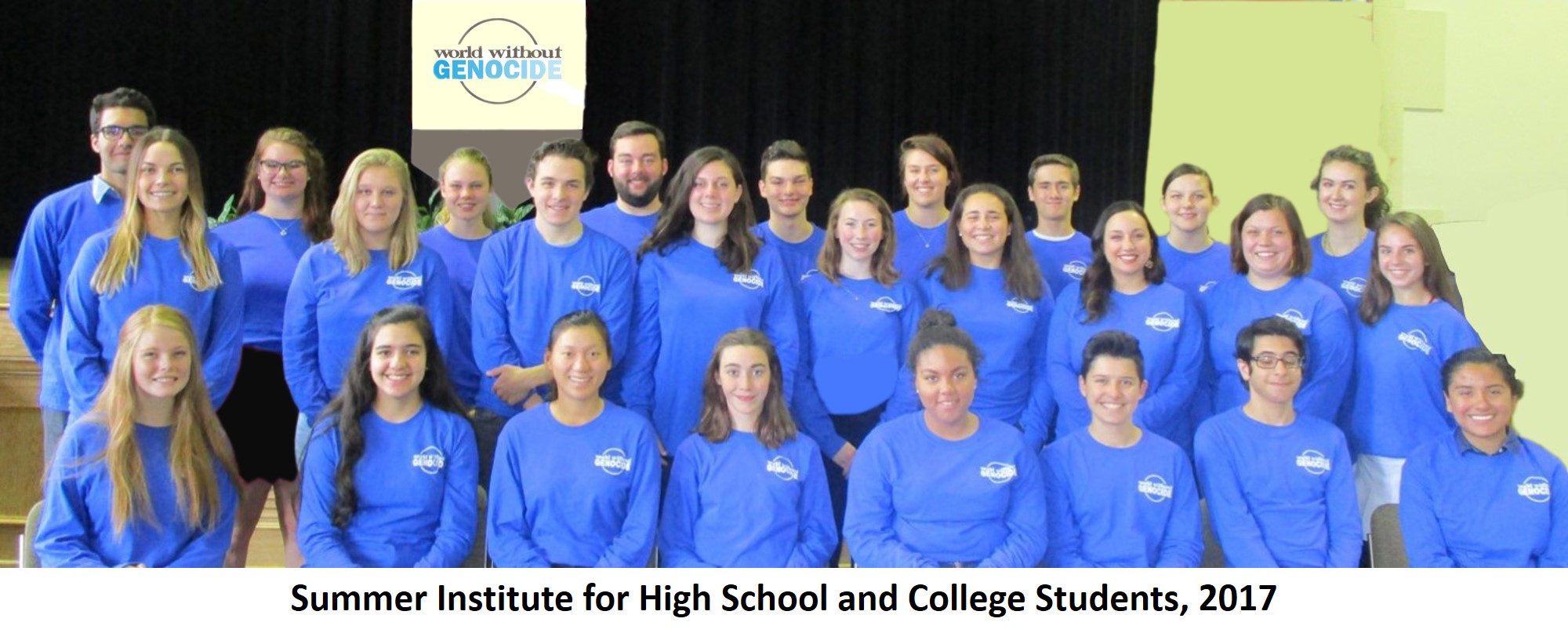 This annual three-day institute explores the connection between genocide and other human rights abuses. Learn leadership strategies to take local and global action to address these issues. Meet survivors and activists.
Children are always uniquely involved and affected by genocide.  They are some of the first victims of displacement, starvation, and abuse.  Children can be used to perpetrate genocide and influence international human rights law as the future of peace.
Climate change is causing extreme weather conditions. Floods, droughts, hurricanes, and tsunamis are devastating our most critical resources: food and water. The resulting famines can push peaceful people to become violent when they are hungry and desperate. Women and girls face the most serious dangers. Likewise, a shaky government can blame vulnerable populations for tragic circumstances and incite others to commit atrocities.
We will explore the role of climate change as a factor that precipitates genocide or that becomes a 'force multiplier' and a trigger that makes instability turn lethal.
Join us to learn about genocides and mass atrocities in Darfur, Rwanda, Burma, Syria, and elsewhere, and the connection to our warming planet. Learn advocacy skills for city, state, and national action on policy and legislation.
Student Requirements:
Be a registered high school or college student by August 2018.
Have at least a C+ average in core classes such as English and social studies.
Commit to attend all sessions, 10:00 a.m.—9:00 p.m.
NEW STUDENTS: Submit a 250-word statement telling us why you want to participate in the Institute.
RETURNING STUDENTS: Submit a 250-word statement sharing what you gained from last year's Institute and why you wish to return this year.
Program Fee: $175
Includes all meals and snacks, t-shirt, World Without Genocide bag, a series of human rights-related books, and Summer Institute curriculum materials.
Needs-based scholarships are available. Contact admin@worldwithoutgenocide.org for more information.
Location: Mitchell Hamline School of Law, 875 Summit Avenue, St. Paul, MN 55105 (three blocks east of Lexington Avenue and about one-half mile south of I-94) If you are unable to arrange transportation, please contact admin@worldwithoutgenocide.org.
Questions? Contact admin@worldwithoutgenocide.org or 651-695-7621.
Registration is now open. Apply by July 20, 2017.
Please mail application materials to World Without Genocide, 875 Summit Avenue, St. Paul, MN 55105
Download the 2018 Application
Check out photos, press, and information about our past Summer Institutes by following the links on the right, visit us on Facebook, or watch the collection of pictures below.
The Summer Institute is supported by Delta Kappa Gamma, Minneapolis University Rotary Club, and Mitchell Hamline School of Law.