The Paris Agreement is an accord to reduce greenhouse gas emissions that cause global warming. It was adopted on December 12, 2015, signed by 194 nations, and entered into force on November 4, 2016. In 2017 the U.S. administration, originally a signatory, withdrew from the Agreement.

Countries sign the Agreement and formally join by ratification, acceptance, or approval of the Agreement.
Participating countries will periodically report greenhouse gas emissions data to the UN.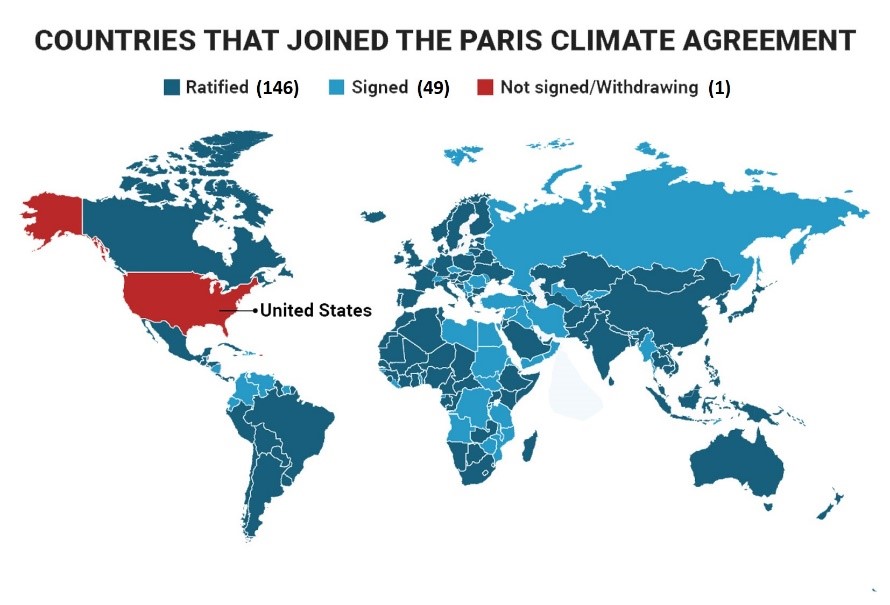 Reduce Emissions
The average global temperature increase should be kept below 2 degrees C (3.6 degrees F).
Greenhouse emissions should reach a peak as soon as possible and then rapidly decrease thereafter.
Be Transparent
Countries agree to meet every five years to set more ambitious targets and to report on progress towards the goals.
Adapt for Change
Governments will strengthen states' ability to deal with climate change impacts.
Parties will provide special support to developing nations.
Mitigate Loss
Governments will work to avert, minimize, and address loss due to climate change.
Governments will enhance early warning systems, emergency preparedness, and risk insurance.

25 countries, states, and provinces launched the Powering Past Coal Alliance this November. Signatories have agreed to phase out coal from power generation by 2030. Canada, the United Kingdom, France, Austria, and Switzerland are among the 25 partner countries. Leaders aim to have 50 partner nations by the next UN climate meeting in 2018. Read the declaration below.
Lead on the issue. Click here.