Global Campaign:  The Red Hands Day
An international campaign supported by Human Rights Watch, Amnesty International, and other organizations around the world
Since 2002 it has been illegal around the world to use children as soldiers. Unfortunately, the number of child soldiers has hardly changed since then. There are still about 300,000 children used in adults' wars in at least 30 countries.
In order to protest this tragedy, more than 350,000 red handprints have been collected in over 40 countries worldwide. And this campaign is continuing – the goal is a million handprints!
We ask adults and especially children and adolescents to collect prints of red hands in schools, faith communities, public places, and in city and state buildings.
How to collect handprints: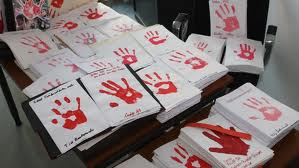 Get two plastic bins.  In one, put warm, soapy water.  In the other, put a washable red paint mixed with water.
Have a lot of paper towels available!
Take pieces of white paper, 8.5" x 11", and cut them in half.
Cover the surface where people will make the handprints so none of the red paint will damage anything.
Ask people to dip one hand into the red paint, then make the handprint on the half sheet of paper.  Sign their name and, if they're willing, their age.
Set the handprints aside to dry.
When you collect a lot of handprints, display them at your school or other public place, along with information about child soldiers.
Mail the hands, with a letter asking to end the use of child soldiers, to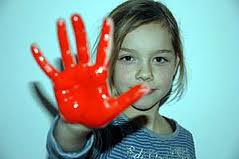 Secretary-General
United Nations
760 United Nations Plaza
New York, New York 10017
Upload your photos and videos of your school and community Red Hand Campaign program at http://www.redhandday.org/index.php?l=en&view=participate.