World offers a number of promotional and educational items for sale. Please see below for our items available:
Sanctuary Ticket
Join us for a fundraiser with One Voice Mixed Chorus. Sanctuary explores the music of immigrant cultures to Minnesota, from early Scandinavian immigrants to African-Americans arriving through the Underground Railroad, and more recent music of Hmong, Mexican, and Somali communities. Several songs describe the experience of LGBT people struggling for a place of belonging. Audiences will also enjoy The Lumberjack Chorus from Benjamin Britten's operetta "Paul Bunyan" and You Will Be Found from "Dear Evan Hansen."
Price: $55 ($20 is tax-deductible)
Order this item here.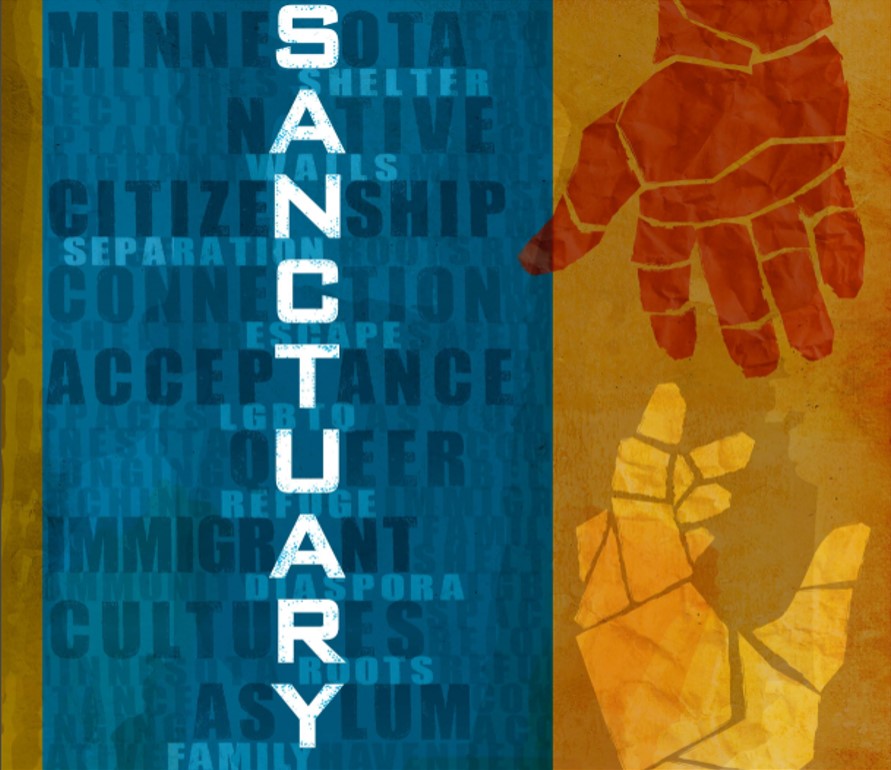 Neighbor Sign
There has been a rise in hate directed at many members of our community. Show your support for all of our neighbors by putting this sign in your yard. Item must be picked up at our office.
Price: $25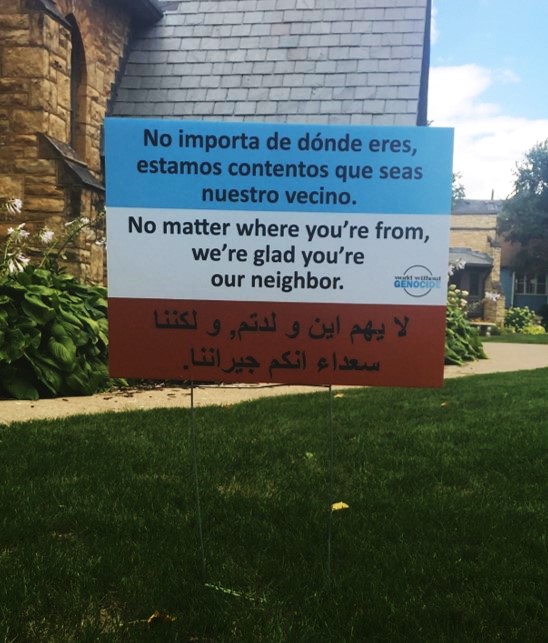 Order this item here.
2017 Upstanders Calendar
Every year we honor people who stood up when there was conflict. This year we recognize those who saved countless children in all conflicts. Buy your copy of our 2017 calendar.
Price: $15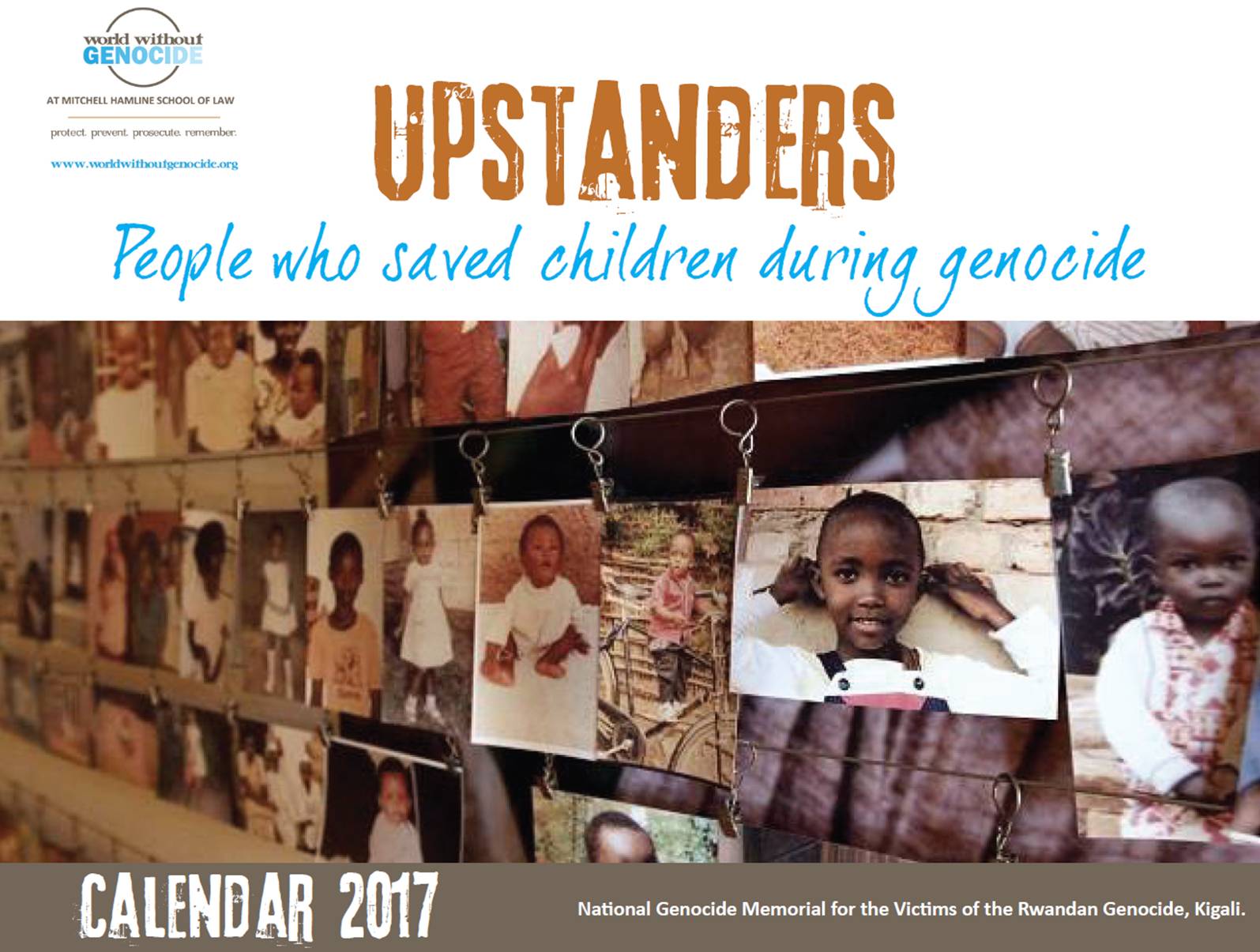 Order this item online here.
We're in America Now by Fred Amram
Fred Amram, Holocaust survivor, writes an eloquent personal narrative on the difficulties of growing up Jewish under Hitler and then immigrating to America.
Price: $25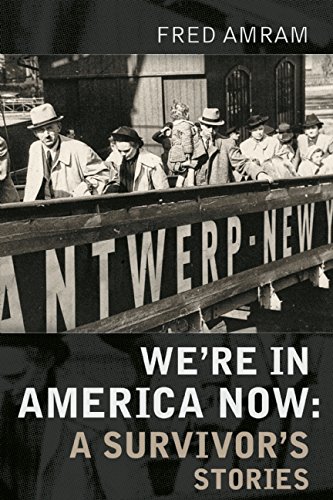 Order this item online here.
'Upstanders' Bracelet 
An 'upstander' is someone who did not stand by they see something. These bracelets have upstander on one side and World Without Genocide on the other. This item was provided to us by Wristband Creation.
Wristband Creation is owned and operated by Custom Wristbands Inc. a corporation located in Burbank, California. They were established in 2005 and, until this date, have produced tens of millions of wristbands. All in all, we have served tens of thousands of clients worldwide. People have used them to show support for advocacies like fund-raisers for cancer research, or as custom-made giveaways for events. This led to them being known as "awareness bracelets," as a means to differentiate them from the ones used for commercial or corporate purposes.
Order this item online here.
Price $5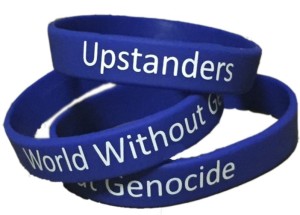 #IllGoWithYou
The wearer of a #IllGoWithYou button is a public volunteer – a buddy who can be counted upon to give peaceful support, act as a buffer, or speak up to any harassers in defense of a trans person's right to use the restroom in peace.
When trans and gender non-conforming people use gendered bathrooms ("men" and "women"), they face the possibility of harassment or violence.   #IllGoWithYou allies go into bathrooms and other spaces with transgender people who may be afraid or concerned about their safety. An #IllGoWithYou ally offers support, buffering and nonviolent assistance when asked.
When you wear the #IllGoWithYou button, you may be approached by a stranger who wants to be accompanied in a gendered space. For more information about how to negotiate these encounters, and guidelines for good #IllGoWithYou practices, check out: www.illgowithyou.org
Price: $5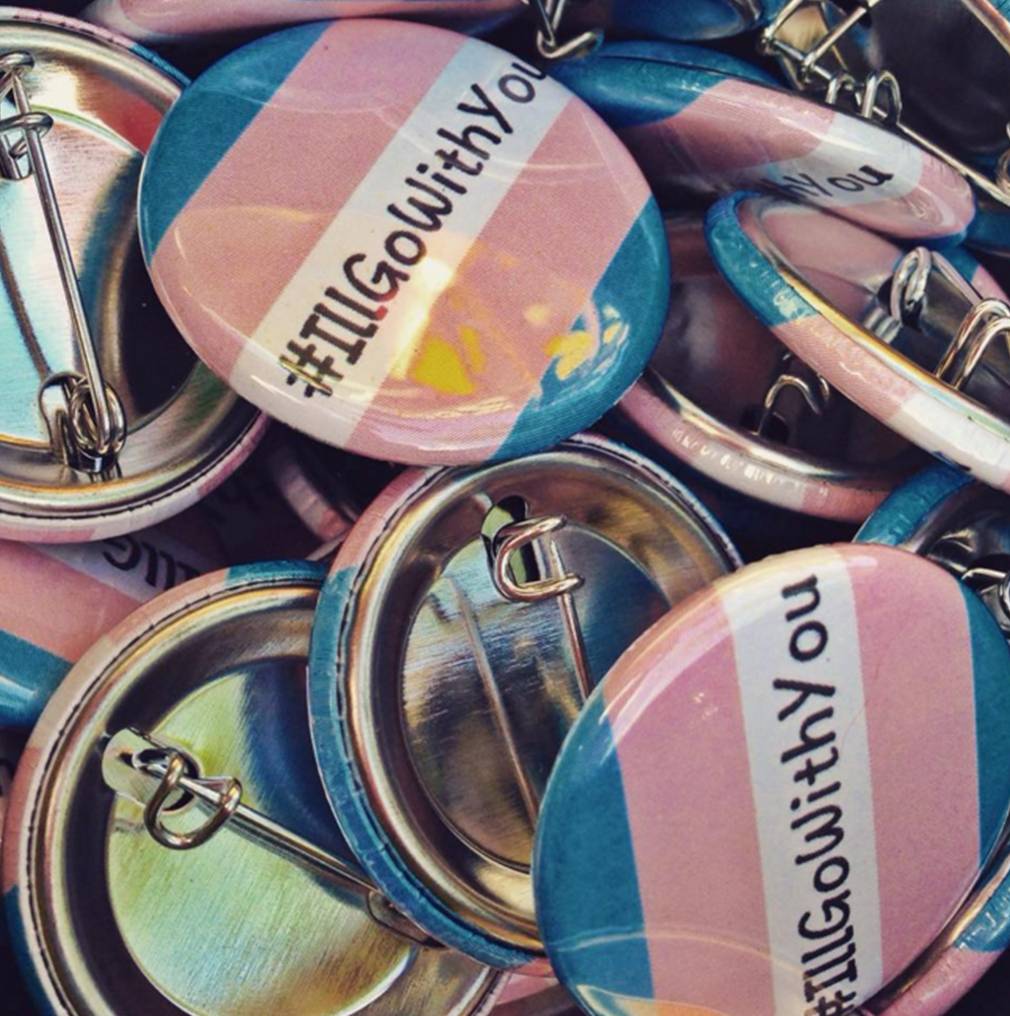 "Genocide and the Law: Cambodia, Bosnia, Rwanda, and Darfur" edited by Ellen J. Kennedy, Rachel Hall Beecroft, and Chelsea Matson, with chapters by Bridget Finn, Brianna Kranz, Amanda Mortwedt, and Dan Schmidt
World Without Genocide's book, published in November 2012, outlines the Cambodian, Bosnian, Rwandan, and Darfur genocides and the respective tribunals established to promote justice. This book is designed for students and the general public.
Price: $10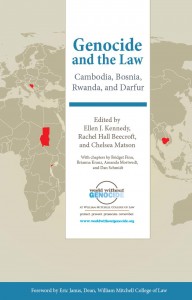 Inspirational Coffee Mug
Our coffee mug is printed with World Without Genocide's logo on the front and a quote on the back. One by Holocaust survivor Anne Frank reads, "How wonderful it is that no one need wait a single moment to start improving the world" and one by Dr. Martin Luther King Jr. reads, "The arc of the moral universe is long, but it bends towards justice."
Order this item online here.
Price: $10
Make It Our Legacy T-Shirt 
Our t-shirts have World Without Genocide's logo on the front and our belief in "Making it our legacy" on the back. Order this item online here.
Sizes S, M, L, and XL
Price $15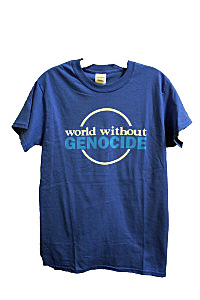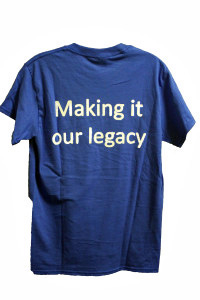 .
Tote Bag 
Our World Without Genocide tote bag has our logo on the front.
Price $10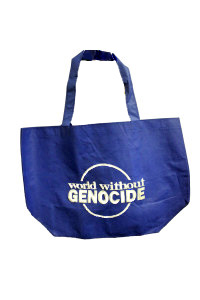 World Visor
Our visor is white with World's logo on the front. Order this item online here.
Price: $10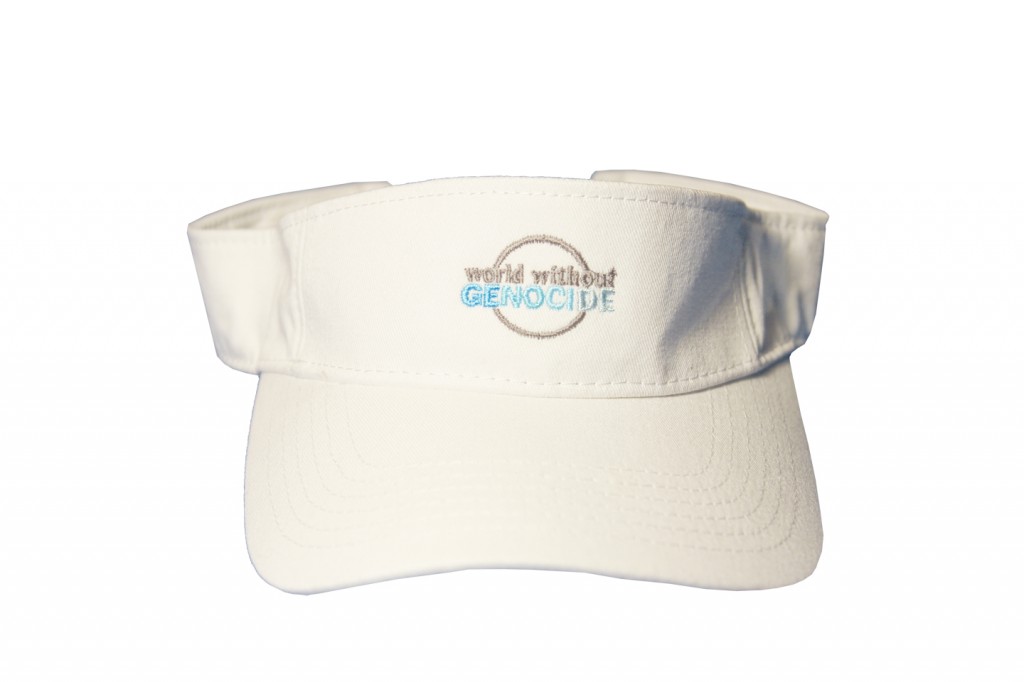 World Tumbler
Our tumbler is dark blue with World's logo printed on the front. Order this item online here.
Price: $10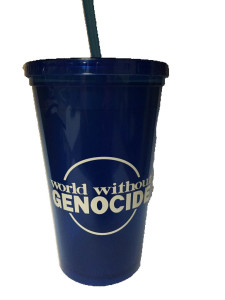 Upstanders: Ending Modern Slavery CD
Our Upstanders CD contains materials for a reader's theater play about human trafficking around the world and in our communities. Order this item online here.
Price: $10
Kristallnacht Necklace
This necklace is in remembrance of Kristallnacht. Order this item online here.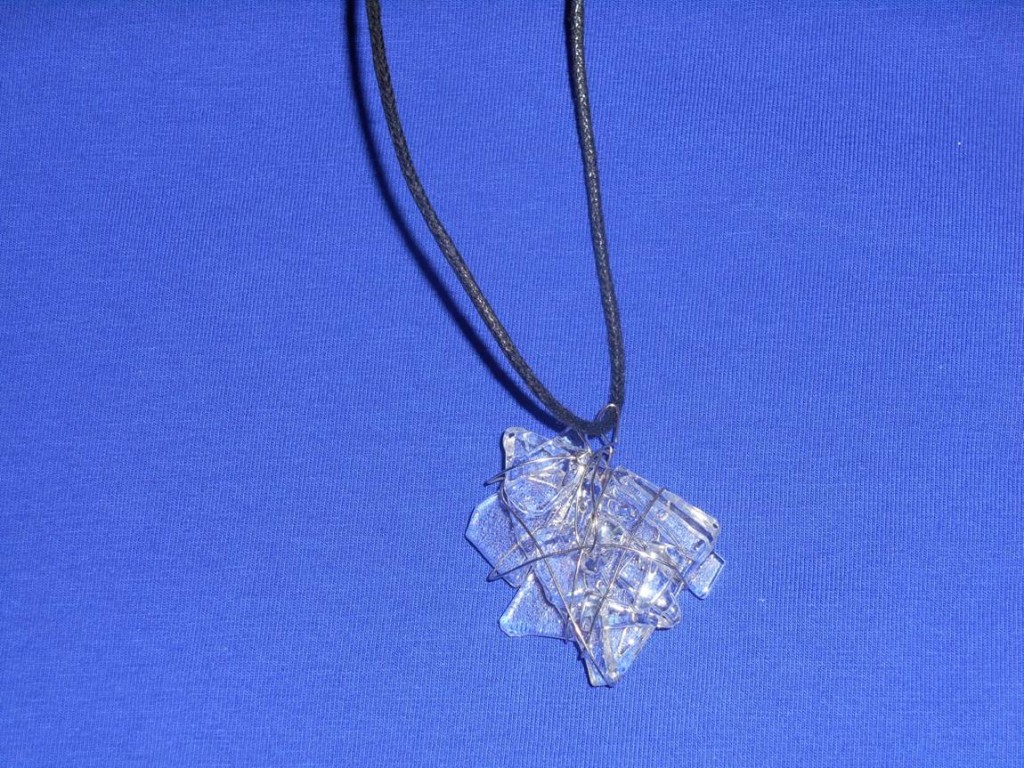 Price: $10
Zachor Pin
Zachor means remember in Hebrew. This pin is in remembrance of the events of Kristallnacht. Order this item online here.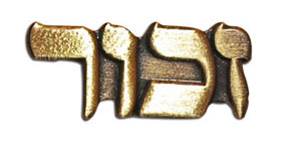 Price: $5
Contact admin@worldwithoutgenocide.org if there are further questions.