Benjamin B. Ferencz Fellowships
in Human Rights and Law
This program for law students, those in related fields, or recent law school graduates in the Twin Cities provides financial support for fellowships at World Without Genocide. The Fellows work on core areas of human rights and genocide prevention including research, policy development and assessment, and action to support local, state, national, and international initiatives.
Applications are available during the summer of each academic year and are awarded for a minimum of two consecutive academic semesters – fall and spring.  Fellowships may be renewed for subsequent terms.
The fellowships are named for one of the world's leading advocates for peace, Benjamin B. Ferencz. At trials in Nuremberg, Germany in 1947, Ferencz prosecuted members of the Nazi Einsatzgruppen, mobile killing squads responsible for the deaths of more than a million Jews during the Holocaust.  Ferencz received convictions for every one of the accused.
He went on to a lifetime of work to enhance safety and security for innocent people, restitution for those whose lives were affected by evil, and an end to impunity for perpetrators. He was a key figure in the development of the International Criminal Court, a permanent body to adjudicate individuals for crimes against humanity, war crimes, and genocide.
At the close of the International Criminal Court's first case in 2011, Mr. Ferencz gave the final remarks for the prosecution, harkening back to his words in 1947 that convicted the worst of the Nazis and realizing the fruition of his dream, more than half a century later, of a permanent international tribunal
Duration of fellowships:  Two consecutive semesters (fall and spring); 5-10 hours per week.
Funding:  $2,000; $1,000 to be paid after the demonstrated successful completion of each semester.
Number of positions:  flexible.
Qualifications: Exceptional skills in written and oral communications; ability to interact well with a wide range of people, including elected officials; experience in legal and social science research; ability to work extremely well in an independent capacity; a demonstrated commitment to justice and human rights; background in genocide studies, international law, or related fields.
To apply:  Applications can be downloaded here. Submit a completed application, résumé, and a 200-250 word letter of intent to info@worldwithoutgenocide.org by August 15, 2017. For additional information, contact 651-695-7621.
Academic credit:  Credit may be arranged for students at Mitchell Hamline School of Law.  Contact info@worldwithoutgenocide.org for information.
Co-curricular credit: Students may arrange for recognition from MJF (Minnesota Justice Foundation).
Position Descriptions
The International Criminal Court
The International Criminal Court, created by the Rome Statute in 1998 and ratified in 2002, is an independent court located in The Hague, Netherlands.  There is no other court like the ICC. The ICC was formed as a universal response to past and present atrocities and represents the culmination of fifty years of international efforts to create a permanent international judicial institution.  The ICC's jurisdiction is as a 'court of last resort' to prosecute individual perpetrators of genocide, crimes against humanity, war crimes, and aggression.
Although 123 nations have ratified the ICC, the United States has not yet done so.
Positions available: 2
Areas of focus:
Provide education about the ICC through leading public discussions and programs, writing web blogs and articles, and providing briefings to students, lawyers, human rights advocates, members of local organizations, and local and state political leaders;
Apply to attend the annual Assembly of States Parties meeting, The Hague, Netherlands, December 4-14, 2017 as a rapporteur for AMICC, the American NGO coalition for the International Criminal Court, a program of Columbia University's Institute for the Study of Human Rights, New York.
Fellows will be assisted by: John Washburn, Convener of AMICC. 
Climate Change and Violence
Climate change is a leading driver of atrocity crimes and genocide.  As temperatures become warmer, droughts and extreme rainfalls occur more frequently, devastating farmlands and decimating agricultural production.  The struggle for access to sufficient food creates 'climate refugees' who flee from ruined farmlands into cities in search of food. Food scarcity becomes even more of a problem in urban areas, and hungry people often target vulnerable populations as scapegoats for their frustrations and fears.
The link between climate change and violence is not yet widely articulated, yet it is becoming increasingly important to make this connection given the federal government's refusal to address the urgency of climate issues.
Positions available: 2
Areas of focus:
Organize and administer public programs and CLEs to raise awareness about climate change and violence, especially in Somalia, Darfur, South Sudan, Nigeria, Syria, and Yemen;
Prepare an easily-administered 'action agenda' for individuals, organizations, and municipalities;
Write articles for both general and legal audiences to increase awareness of the urgency of the situation.
Germany's African Genocide: The Extermination of the Herero
In 1904, in the African country today known as Namibia, innocent people were labeled as 'less than 'human' and were rounded up, put into train boxcars, and taken to concentration camps. Some were used as slave laborers, others were subjected to brutal medical experiments, and thousands went directly to their deaths in extermination camps.  More than 85 percent of the targeted men, women, and children perished by starvation, torture, or killing.
This was not the Holocaust.  These atrocities occurred in German Southwest Africa, a German colony, in a genocide perpetrated against the indigenous Herero and Nama people by Germany's Second Reich under Germany's Kaiser Wilhelm II.  Key perpetrators of this Herero genocide became high-ranking Nazis thirty years later.
In 2001, Herero leaders brought a lawsuit in U.S. courts against the German government, Deutsche Bank, and other entities that had been complicit in perpetrating these crimes.  The suit ultimately went to the U. S. Supreme Court, where it was dismissed. Another U.S. suit was initiated in 2017 against the German government for excluding the Herero and Nama from dialogues between German and Namibian government representatives.  A similar case is pending at the United Nations.
Positions available: 2
Areas of focus:
Generate awareness of the Herero genocide among the legal community through articles, speeches, and       online information;
Provide support to Namibian Herero and Nama organizations in their efforts to achieve restitution, recognition, and reparations from the German government;
Arrange and participate in a mock trial of the genocide perpetrators.
CEDAW- The Convention on the Elimination of all forms of Discrimination Against Women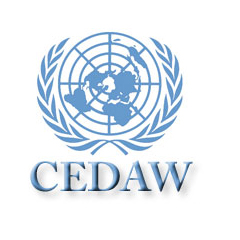 In 1979 the United Nations adopted CEDAW, the Convention on the Elimination of all forms of Discrimination against Women (abbreviated and pronounced SEE-daw). It is often described as an 'international bill of rights for women,' defining what constitutes discrimination against women and establishing an agenda for national action to end such discrimination.
Women and girls are always targeted for violence during genocides and mass atrocities.  For that reason, to enhance the rights and safety of women and girls is a critical step in genocide prevention.
Only six nations in the world have not yet ratified CEDAW: Iran, Somalia, Sudan, two small Pacific Island nations of Palau and Tonga, and the US.  However, more than 200 U.S. organizations and several dozen U.S. cities, representing millions of Americans, support CEDAW.
Countries that have ratified the Convention are must submit reports every four years on measures they have taken to comply with their treaty obligations. Although CEDAW has been ratified by many countries where violence against women and women's inequality in social, legal, economic, and political spheres remain deeply-entrenched, CEDAW's passage advances the movement of customary law to include equality for women.
Positions available: 2
Areas of focus:
Organize and administer public programs and CLEs to raise awareness about CEDAW;
Generate organizational support from faith, civic, educational, business, and human rights organizations throughout Minnesota;
Write articles for both general and legal audiences to increase awareness of CEDAW and critical issues of discrimination against women and girls;
Prepare a resolution for the Minnesota state legislature to endorse CEDAW.