The success of World Without Genocide depends on our employees, interns, and volunteers. It is through the volunteer efforts of ordinary people that we are able to make a difference on so many issues affecting human rights on a local and a global scale.
We welcome your involvement as a volunteer. Currently, we are looking for volunteers to provide support for ongoing events, advocacy, and for the Tents of Witness exhibit. The exhibit is composed of ten tents; each one tells the story of a different group targeted for genocide. If you are interested in volunteering, please contact admin@worldwithoutgenocide.org.
The Sharp-Joukowsky Award for Moral Courage
The Committee on Moral Courage is inviting submissions of personal stories of moral courage and/or psychological profiles of altruism and moral courage as illustrated by people like Waitstill and Martha Sharp.
Stories should be submitted via e-mail message to artemis@joukowsky.com by March 1st, 2017:
 Length: The story should be at least 10 pages long.
 Form: Stories may be in the form of an interview with the person who demonstrated moral courage or a summary/description of their acts by the person nominating them.
All submissions will be featured on the Defying the Nazis website in the order received. The award-winning story will receive $10K; $5K to the nominator and $5K to the charity selected by the nominator. A expert panel in moral courage and altruism, under the direction of Professor Kristen Monroe, will review all stories. The best stories will be collected and published in a volume every five years.
For more information click here.
JOURNEY ON THE ROAD TO FREEDOM
Spaces still available!  Tour dates June 24-July 4, 2017.  To sign up for the trip, please fill out the form below.  Deposit due by January 15, 2017 or until spaces are filled.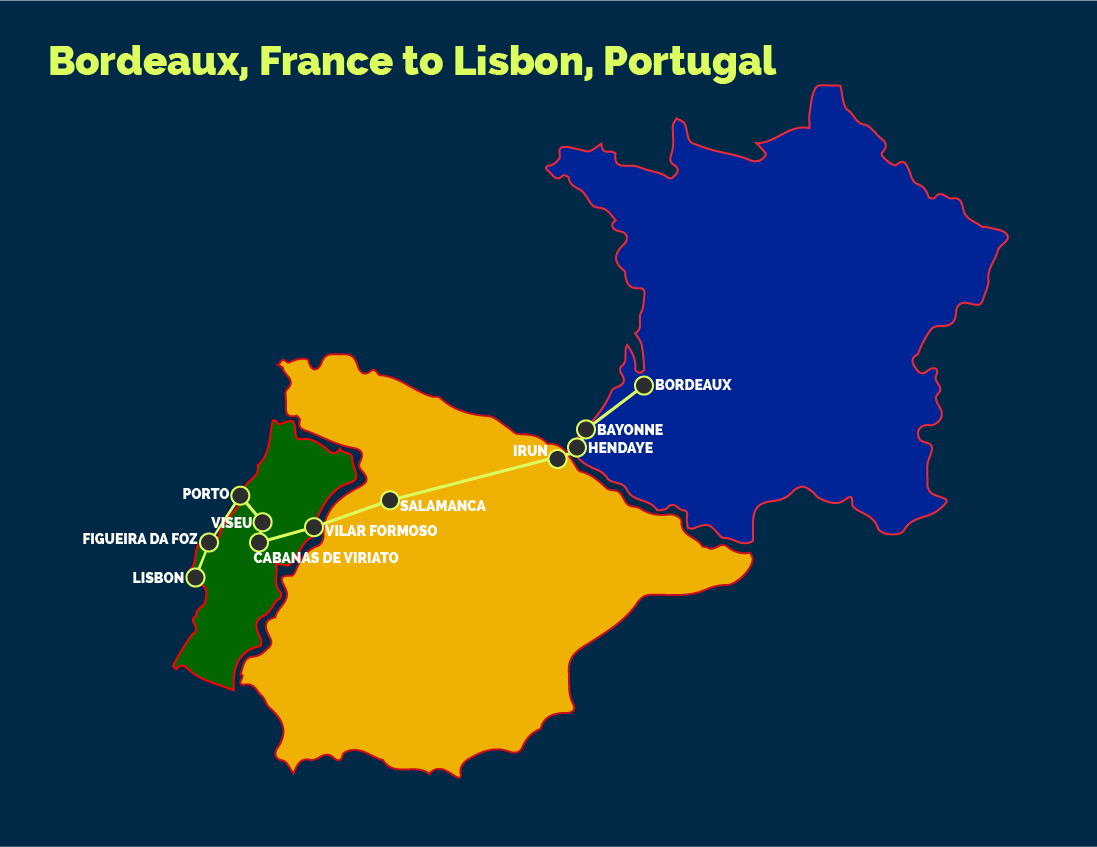 Retrace the footsteps of Aristides de Sousa Mendes and the refugees of 1940 on this 11-day, 10-night guided trip of a lifetime, beginning in Bordeaux and ending in Lisbon. In between, visit sites germane to the dramatic and moving story, including Bayonne, Hendaye, Vilar Formoso, Cabanas de Viriato, Porto, and Figueira da Foz.* Optional pre-tour and post-tour extensions.  Travel in a comfortable air-conditioned coach bus and enjoy fabulous meals. Accommodations are all full-service luxury 5-star or 4-star hotels.  Space is limited, with priority given to visa recipients, descendants of visa recipients, and Holocaust educators.
Rave reviews from prior participants:  "A wonderful experience!" "Enlightening, inspiring, often emotional." "One of the best trips I have ever taken."  "Super!" "It went beyond my expectations."  "Much more than I expected. It was a once in a lifetime experience." "Inspirational and wonderful!"
*Preliminary itinerary. Program subject to change.
BORDEAUX, FRANCE TO LISBON, PORTUGAL
June 24-July 4, 2017
Price of the tour: $2800 for 10-night trip, including all hotels, sites, ground transportation and meals (excluding alcohol). Air travel to Europe not included. Brussels Airlines, the Official Carrier, is generously providing a 15% discount for air travel to all participants.Optional pre-tour winery excursion to St.-Emilion: $300 including meals, hotel, wine tasting, transportation and guide. Optional post-tour extension to Estoril, Cascais and Sintra: $250 including meals, hotel, and transportation. Discounted price (-10%) for both extensions: $495. Prices are based on double occupancy. Single room supplement: $70/night.
Schedule of payments: Deposit of $250 due on January 15, 2017 or until spaces are filled. Balance due according to the following schedule: $1250 (basic tour) plus any extensions (in full) due on February 1, 2017. Remaining balance due on May 1, 2017.  Refund policy: The deposit is non-refundable. The second payment is refundable prior to March 1, 2017. The third payment is non-refundable. PayPal transaction fees will be subtracted from any refund.
For more information click here.
2017 Summer Institute on the Holocaust and Jewish Civilization
The Holocaust Educational Foundation of Northwestern University (HEF of NU) is pleased to invite applications for fellowships to participate in the 22nd annual Summer Institute on the Holocaust and Jewish Civilization from 18-30 June 2017 at Northwestern University in Evanston, Illinois. The renowned program is an intensive two-week course of study designed to broaden and deepen the background of current and prospective Holocaust educators. Over the past two decades the Summer Institute at Northwestern has graduated more than 500 scholars who have gone on to teach about the Holocaust at universities around the world. The program is open to faculty and graduate students who are planning to teach Holocaust-related courses at institutions of higher education. We welcome both those who are new to the field and experienced scholars who are looking to broaden their interdisciplinary perspective. Every year, HEF of NU accepts approximately 25 Fellows, each of whom receives free room, board, and tuition during the program. (Fellowships do not cover travel expenses to and from Evanston or the cost of assigned books.) All applications must be received by February 16, 2017.
The Institute curriculum consists of seminars taught by leading scholars on such themes as: the religious practice and history of European Jewry; the Holocaust in art, film and literature; ethics and gender during and after the Holocaust; recent methodological and historiographical approaches to the Holocaust. Faculty for the 2017 Summer Institute will include Professors Roger Brooks, Alexandra Garbarini, Daniel Greene, Peter Hayes, Marianne Hirsch, Sara Horowitz, Stuart Liebman, George Mastroianni, Leo Spitzer, and Barry Trachtenberg.
By February 16, 2017, applicants should submit electronically:
a letter explaining their interest and experience in Holocaust studies,
a curriculum vitae, and,
in the case of graduate students and recent PhDs, a letter of recommendation.
Applications should be submitted using the online form; letters of recommendation should be emailed with the subject line "Summer Institute 2016 Recommendation for Name of Student″ to: hef@northwestern.edu.
Please email any questions to: hef@northwestern.edu
For more information click here.
Special Notice
Completed online application (Cover Note and Personal History Profile) is required. Incomplete applications will not be reviewed. The cover note must include:
-Title of degree you are currently pursuing
-Graduation Date (When will you be/have graduating/graduated from the programme?)
-Persons with disabilities are encouraged to apply
*MAKE SURE TO INDICATE AVAILABILITY BETWEEN NOVEMBER 2016 TO OCTOBER 2017 (at the top of your cover letter)
*THE INTERNSHIP IS UNPAID AND FULL TIME
*TRAVEL COSTS, TRAVEL ARRANGEMENTS INCLUDING VISA AND LIVING ACCOMODATIONS ARE THE RESPONSIBILITY OF THE INTERN OR THEIR SPONSORING INSTITUTION
Org. Setting and Reporting
The Office of the United Nations High Commissioner for Human Rights internship is for a period of two to six months depending on the needs of the Section.
The internship is unpaid and full-time. Interns are not staff members of the Organization and do not represent it in any capacity.
Interns work five days per week.
This internship is located in the Human Rights and Economic and Social Issues Section.
The Human Rights & Economic and Social Issues Section (HRESIS) facilitates OHCHR thematic work on economic, social and cultural rights (ESCR) as well as on business and human rights, on the rights of persons with disabilities, on climate change and environment related issues as well as on migration.
Responsibilities
Under the direct supervision of the respective Chief of Section or Chief of the Branch, the intern will assist in any of the following areas work during their internship: –
•Undertake research and analysis on economic, social and cultural rights and issues as required by the Section;
•Assist with the provision of substantive input, as necessary, for other branches of the Office;
•Prepare reports, background materials and other relevant documents for the Secretary-General, High Commissioner and the Secretariat as well as the General Assembly, the Economic and Social Council and the Human Rights Council, and its subsidiary bodies, as necessary;
•Prepare for and service missions, meetings, seminars and workshops (e. g. preparation of documentation, drafting of notes and reports);
•Preparation for collaborative work and activities organised with other UN Departments, agencies and bodies;
•Undertake any other assignments as directed by the direct supervisor, the Section Chief or the Chief of Branch.
Competencies
COMMUNICATION. Speaks and writes clearly and effectively; listens to others, correctly interprets messages from others and responds appropriately; asks questions to clarify, and exhibits interest in having two-way communication; tailors language, tone, style and format to match audience; demonstrates openness in sharing information and keeping people informed.
TEAMWORK. Works collaboratively with colleagues to achieve organizational goals; solicits input by genuinely valuing others' ideas and expertise; is willing to learn from others; places team agenda before personal agenda; supports and acts in accordance with final group decision, even when such decisions may not entirely reflect own position; shares credit for team accomplishments and accepts joint responsibility for team shortcomings.
CLIENT ORIENTATION. Considers all those to whom services are provided to be "clients " and seeks to see things from clients' point of view ; establishes and maintains productive partnerships with clients by gaining their trust and respect ; identifies clients' needs and matches them to appropriate solutions ; monitors on-going developments inside and outside the clients' environment to keep informed and anticipate problems ; keeps clients informed of progress or setbacks in projects ; meets timeline for delivery of products or services to client.
Education
To qualify for the United Nations Internship Programme, the following conditions must be met:
– Applicants to the United Nations internship programme must at the time of application meet one of the following requirements:
(a) Be enrolled in a graduate school programme (second university degree or equivalent, or higher);
(b) Be enrolled in the final academic year of a first university degree programme (minimum Bachelor's level or equivalent);
(c) Have graduated with a university degree, as defined above, and, if selected, must commence the internship within a one-year period of graduation.
Applicants for all countries are accepted and under-represented or un-represented countries in the UN are encouraged to apply.
Work Experience
No professional work experience is required for participation in the Internship Programme.
Languages
English and French are the working languages of the United Nations Secretariat. Fluency in spoken and written English is required for the internship. Knowledge of an additional UN language is an asset.
For more information click here.
Location: New York
About the Organisation:

The Brennan Center for Justice at NYU School of Law is a nonpartisan public policy and law institute that focuses on improving the systems of democracy and justice in the United States. Part think tank, part public interest law firm, and part advocacy group, the Brennan Center combines research, scholarship, legislative and legal advocacy, and communications to win meaningful change in the public sector. Among their core priorities, they fight to protect voting rights, to address the challenge of special interest money in their politics, to end mass incarceration, and to advance Constitutional protections in the fight against terrorism.
Job Description:
They seek law students to work alongside staff in our New York and DC offices on the Brennan Center's policy advocacy, research, and litigation initiatives. Activities may include legal and policy analysis; legislative drafting at federal, state, and local levels; administrative and legislative advocacy; public education and scholarship; and litigation in trial and appellate courts. The Brennan Center's interns are integral to all aspects of our work, including programmatic and strategic planning. We strive to offer a fun and intellectually-challenging legal intern experience that supports and supplements the vital advocacy offered by the Brennan Center. The internship lasts for 10 weeks. We may accommodate a limited number of split summers.
Qualifications: Excellent legal research, analysis, and writing skills; initiative, imagination, and versatility; and a passion for their issues.They are currently focused on protecting privacy rights in the digital age (e.g., legal challenges to various forms of warrantless electronic surveillance), on racial and religious profiling by law enforcement agencies (e.g., "Countering Violent Extremism" (CVE) programs and police surveillance of American Muslim communities), and on combating excessive government secrecy (e.g., over classification of documents and "secret law").
How to Apply:

Interested students should go to:
http://brennancenter.theresumator.com/apply/NOmttS/Summer-2017-Legal-Internships-In-New-York-City
and upload, where it says "attach resume," a single PDF or Microsoft Word document containing all of the following:
(1) a cover letter explaining which particular programs or projects they are interested in joining: Democracy Program (NY), Justice Program (NY), Liberty & National Security (NY or DC), or DC Office;
(2) a current law school transcript (1Ls may send the transcript separately, as soon as it is available);
(3) a legal writing sample;
(4) a current resume; and
(5) contact information for three references.
Applications should be submitted through this website. However if you have difficulties with the online system, please email all of your application materials to brennancenterjobs@nyu.edu with "Summer Legal Internship- NYC" in the subject line.